The World's Premier Land Cruiser Restoration Company
We exist to preserve and enhance the legendary Toyota Land Cruiser in a way that nobody else can. Find out why we are the best.
This Month's Featured Build
SEMA 2022 Featured FJ60 6.2L GM E-ROD LS3 V8
PRLC's involvement in SEMA began in 2017 when one of our FJ40 builds was featured in the Bilstein Shock's booth. The SEMA show is addicting and we have become more and more involved over the last 6 years. Our custom Land Cruisers have been featured at the show by awesome companies including Cummins, Bilstein, Kenda, Maxxis, and Warn. Personally, my wife Chandra and I have both been speakers at SEMA's education seminars. I am also a judge for SEMA Young Guns, a program designed to get young vehicle builders exposure in the automotive aftermarket industry, and also the Pro Truck and Off-Road judge for SEMA Battle of the Builders. SEMA BOTB is one of the worlds most diverse and inclusive car shows. It's televised on the History Channel.
The new SEMA Battle of Builders TV special will premiere on January 28, 2023, at 9:00 am (EST) on the History Channel's Drive Block and A+E Networks. The show will feature behind-the-scenes footage and exclusive interviews with top builders in the aftermarket industry.
About Proffitt's Resurrection Land Cruisers
Proffitt's Resurrection Land Cruisers is a Land Cruiser restoration and custom modification shop located in Western Colorado. We have been in business since 1995 and have produced many of the finest Toyota Land Cruisers ever built. Our team of professionals continues to produce the highest quality Land Cruiser restorations and custom modifications globally. We focus on customer service, communication, uncompromising quality, and attention to detail. If you have or want a Toyota Land Cruiser, we invite you to call Proffitt's Resurrection Land Cruisers at (970) 596-7363
Restorations
Proffitt's Resurrection Land Cruisers is the only choice for serious, classic four-wheel drive enthusiasts to have a Land Cruiser or other Toyota restored, or custom-built to their specifications. Our projects are built without compromise or shortcuts and are of the highest quality. You won't find a better product or experience anywhere.
Short term projects
While restorations are our priority, we do maintain a short-term schedule for smaller projects. Among these are engine conversions, accessories installations, suspensions, overland builds, disc brake conversions, power steering conversions, service, and general repairs.
Buy and Sell
We don't sell Land Cruisers as a primary part of our business, but we do like to put Toyota enthusiasts together for transactions that can benefit the Toyota four-wheel drive community. Check out this page to buy or sell your next Land Cruiser. We approve every ad on the page in an attempt to ensure integrity and honesty.
Parts
PRLC understands the importance of making parts available to the Land Cruiser community. We are currently developing a "PRLC Parts Corner" marketplace to offer up some of what we have. We hope to eventually expand the marketplace to offer our full line of products.
Merchandise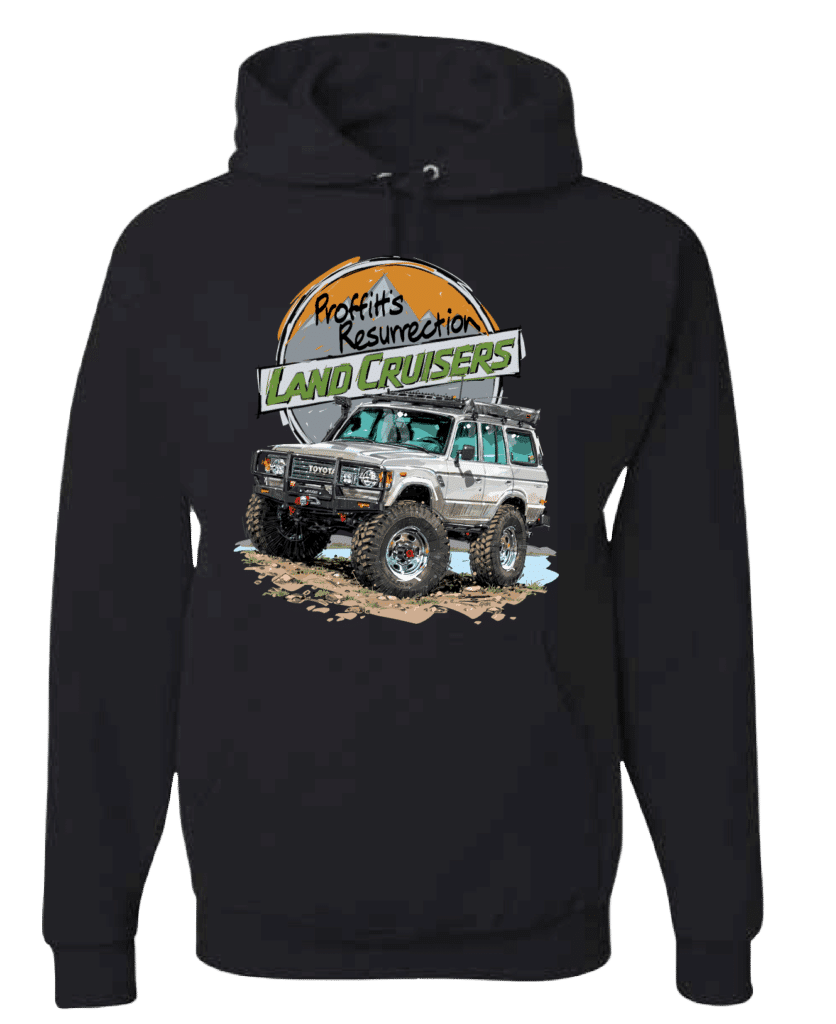 Proudly represent Resurrection Land Cruisers with our new merchandise store.
WHY CHOOSE US
EXPERIENCE
Our team of experts has been building and restoring Toyotas for over 20 years. PRLC has always been one of the prime choices for restoring your Toyota Land Cruiser, but our persistence and commitment to continuous improvement have resulted in our rising to the top. When it comes to Toyota Land Cruiser restoration, we set the bar. You simply won't find a superior product anywhere else.
RELIABILITY
Too many car enthusiasts have bad experiences with shops while trying to restore their classic vehicle. We want our clients to rest assured that when they place their trust in us, they won't be disappointed. We value our clients, their experiences, and their Land Cruisers more than anything, and we have an outstanding track record of keeping our promises.
QUALITY
We run our company with a commitment to continuous improvement. Our fabrication, mechanical, auto-body, and administrative staff are all dedicated to making each product and process better than the last. This relentless effort and a refusal to cut corners make our product the best it can be.
Resurrection Perfection
We have refined an excellent process to get a project going with our shop. First, we start with pictures of your Land Cruiser. (If you don't have one yet, that's ok, we can help source one) Then, we have a process for deciding exactly what you need in your build. Once we have the details mostly squared away, we can generate an estimate for your project. This all becomes a working set of documents throughout the project and is a fun process. Click here to get started!
Great place for your FJ60 repair/restoration/modifications.
Jeremiah and his team really helped me out with stability and handling issues on my FJ60. Friendly, knowledgeable, and very competent team.
Knowing that I had purchased an FJ40 from another company, Jeremiah still took the time to discuss my vehicle and answer questions. He offered great advise and recommendations. Class act!
Amazing Restoration/Resurrection work or perhaps it would be best described as a Passion for the preservation of all things Land Cruisers